Located in Bihar, the capital and largest city of the state, Patna is known for its ancient history, archaeological sites, and historical events. In addition to its many sights and attractions, Patna is now a major hub for business as well as medical facilities. The city has many major hospitals including AIIMS Patna, IGIMS, PMCH, etc. Popular leisure, medical, and business travel destination in India, Patna has a good road, air, and rail infrastructure that connects it with all major cities.
How to Reach Patna by Air
An easy way to get to Patna is to fly to Lok Nayak Jayaprakash Airport from anywhere in India. For commuting, you can take private taxis or pre-paid auto-rickshaws. The airport is well connected via Air India, Go Air, Jet Airways, Indigo, and JetLite to all the major cities like Bangalore, Delhi, Chennai, Kolkata, Hyderabad, Lucknow, Mumbai, and Vishakhapatnam.
How to Reach Patna by Road
A city on National Highway 30, Patna is easily accessible by bus or taxi from all major cities. Buses run regularly on different routes across the country and connect the city with the rest of the country.
How to Reach Patna by Rail
There is also a rail network between Delhi and Kolkata via which you may reach Patna. It happens to be among the busiest rail networks in the country. Trains running at regular intervals between Patna Junction and other parts of the country connect the city with other parts of the country. There is a taxi stand at the station as well as an auto-rickshaw service.
The institute is well connected to all parts of the country.
From Patna Central Railway Station

Fastest route now is the one in the center, through Harding Rd, Mithapur - Anisabad - Khagaul Rd
Taxi cabs and auto rickshaws for hire are available in front of the railway station
Local buses ply from outside the railway station to Phulwarisharif, from where shared auto rickshaws have to be used
Shared auto rickshaws, if used, need to be changed three times in the journey, and are not recommended for newcomers to the city
From Jaiprakash Narayan International Airport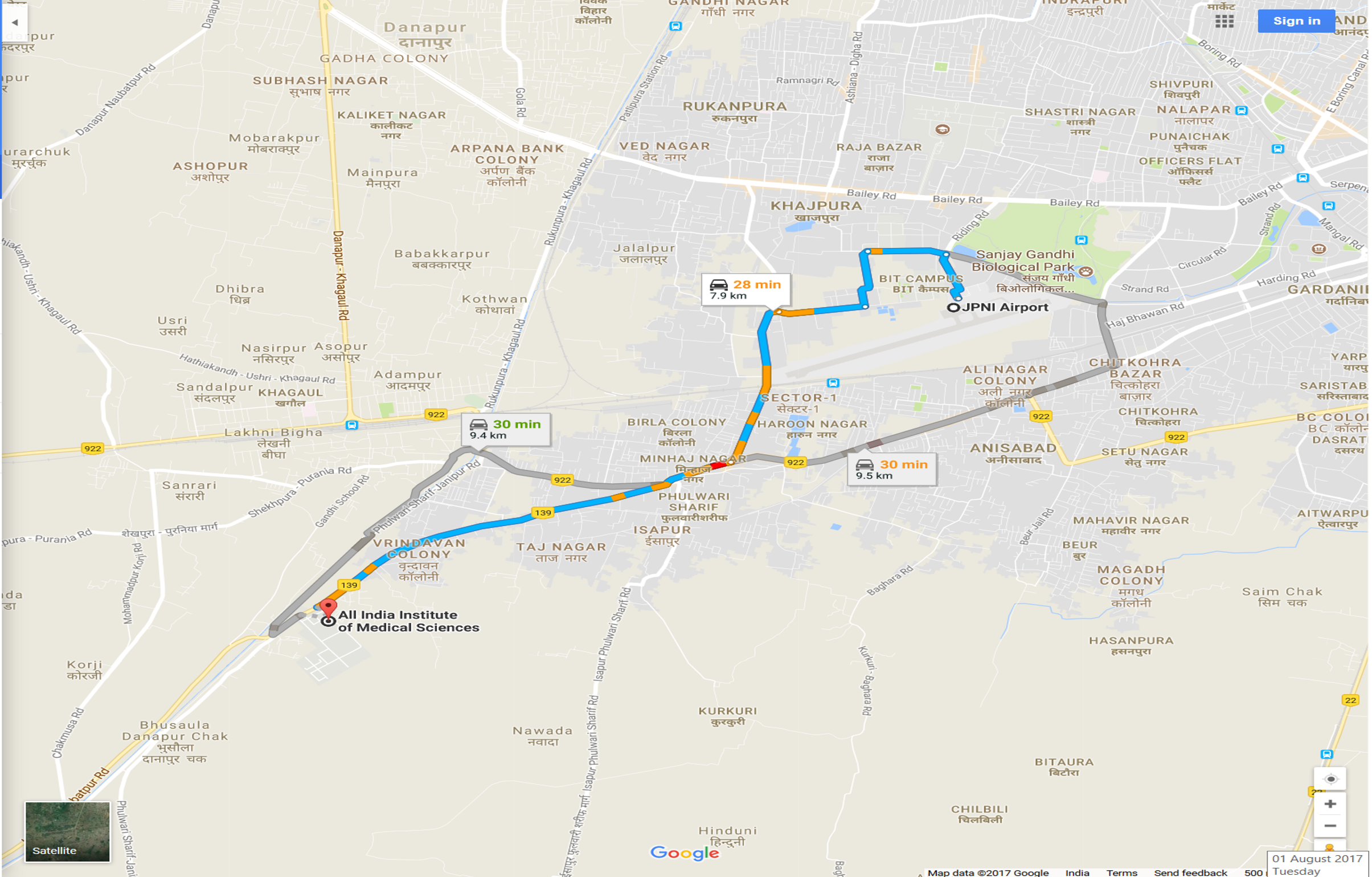 Taxi cabs and auto rickshaws for hire are available from the airport
Local buses and shared auto rickshaws are not available from airport
From Mithapur Bus Stand
Auto rickshaws for hire are available from the bus stand and just outside.
Local buses do not fly from bus stand to the institute
Shared auto rickshaws, if used, need to be changed twice times in the journey, once upto Anisabad Golambar and then to Phulwarisharif Thana
These are the cheapest means of travel in Patna and can be used if you are used to ride shared vehicles